Electric Suction Toothbrush G100
Regular price
$349.00
Sale price
Share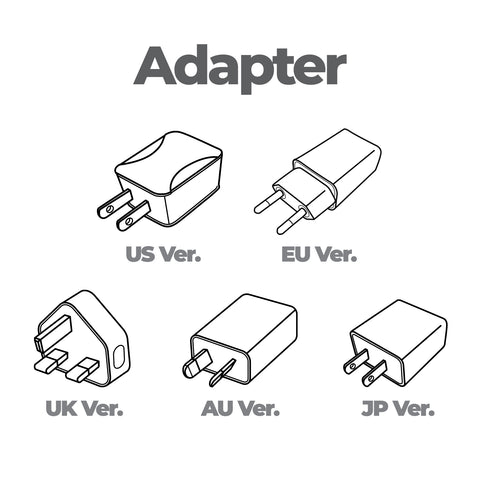 Warranty & Customer Service - bluereo US OFFICE
Experience peace of mind with our one-year warranty and exceptional customer service at your side.
📞 (440) 567-9675
✉️ service@bluereous.com
- Abilities Expo (in HOUSTON)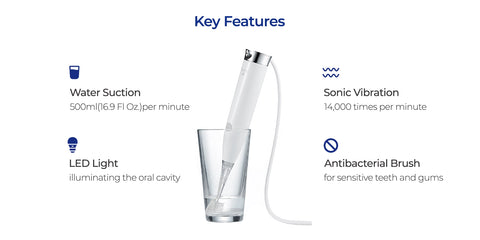 Water Suction 500ml(16.9 Fl Oz.) Per Minute
The water inside the mouth is drawn out through the suction holes located on the top of the Brush Head, through the Tube, to the Foldable Pouch.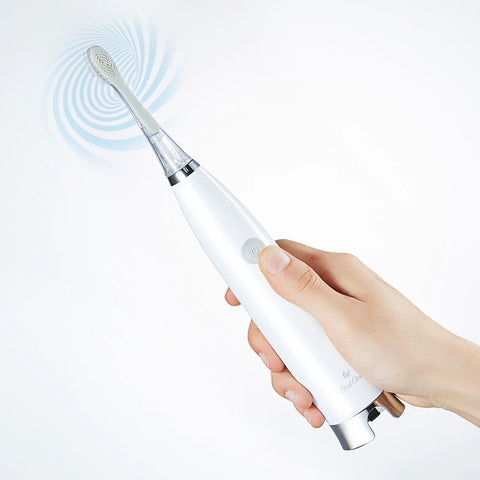 Soft Sonic Vibration
Soft Sonic Vibration that spreads through recipient's mouth. Sonic vibrations of 14,000 times per minute protect recipient's sensitive gums, which also provides effective cleansing.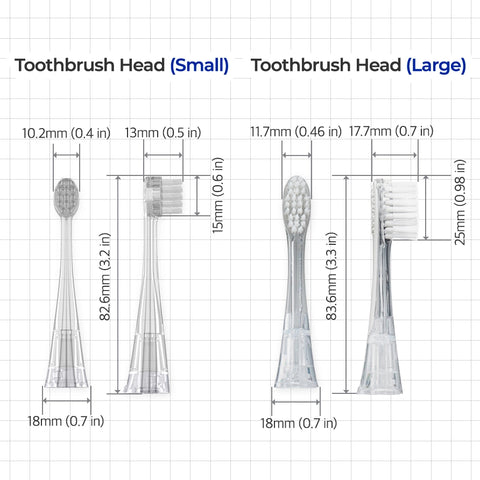 2 Sizes of Toothbrush
Two sizes are available, allowing it to be used according to the mouth size of recipient.
Other Features
LED Light
Antibacterial Brush For Sensitive Teeth
Waterproof Toothbrush
Long Battery Life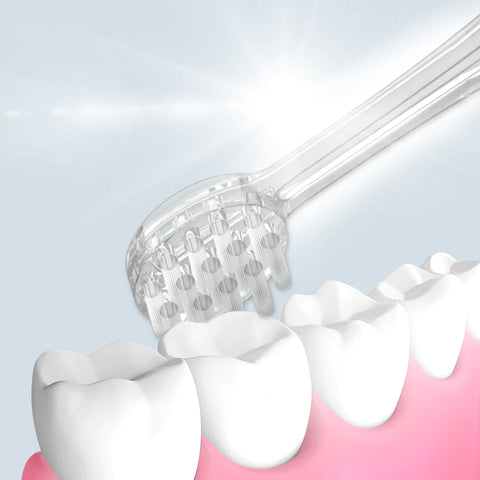 LED light completes the convenient brushing. It attached to the Brush Head brightens up the inside of recipients' mouth while brushing.
Soft and antibacterial bristles help caregivers to provide hygienic oral care. Caregivers can replace the Brush Heads to take care of multiple recipients.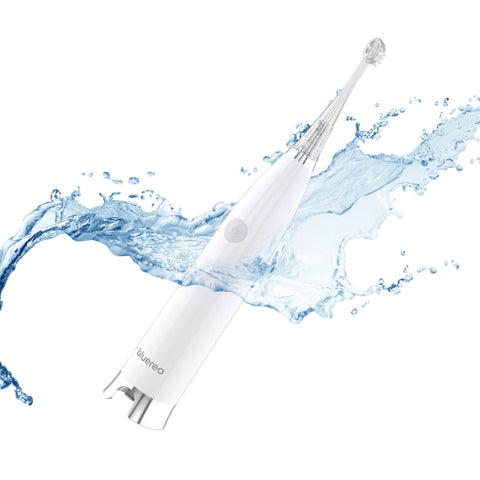 It is equipped with daily waterproofing treatment, ensuring safe usage even when in contact with water.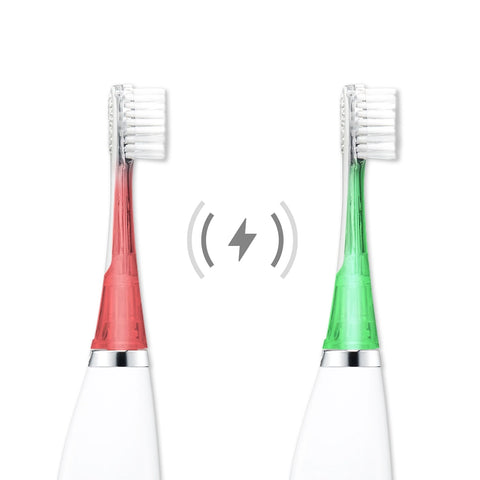 It can be used for up to 3 weeks on a 4-hour charge. The charging status can be easily identified by the LED color on the toothbrush head.
A single button can alternate between sonic vibration function and suction function or use them simultaneously.
1Place an adequate amount of liquid toothpaste on the bristles of the Brush Head. Using liquid toothpaste is essential to optimize the product's suction performance and ensure stable usage.
2Operate the sonic vibration function by pressing the Power Button once. Then thoroughly brush every corner of the mouth.
3When rinsing, please pour clean water into the recipient's mouth. It is convenient to use a water bottle that allows for water spraying.

※ In the cases of dysphagia, the guardian's attention is required so that the water does not flow into the airway.
4Press the Power Button once more to activate the suction function, then use it to remove and expel the mouthwash from inside the mouth.
*Precautions
The suction holes are located at the top end of the Brush Head, so please flip it over to make the bristles face upwards when operating.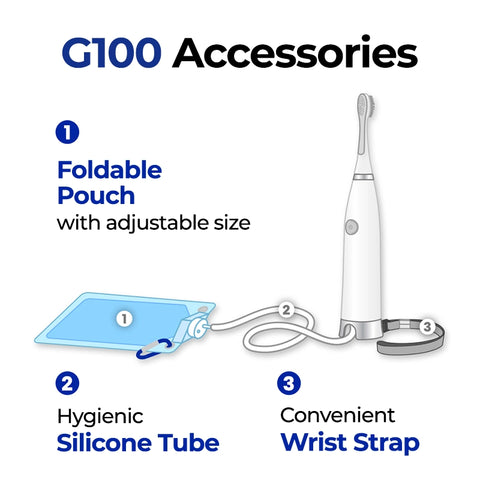 G100 Accessories
Foldable Pouch
You can conveniently open the lid to clean and dry it, and then fold it for storage. It also comes with a dedicated loop, allowing you to hang it on clothes or nearby objects for easy use.
Silicone Tube
Through a silicone tube that is safe for the human body, you can hygienically dispense water. It can be connected to the nozzle at the bottom of the toothbrush and the nozzle of the foldable pouch.
Wrist Strap
You can securely use the product without dropping it by using a wrist strap.
specifications
43 x 38 x 268mm
(1.7 x 1.5 x 10.5inch)
117 x 250 x 100mm
(4.6 x 9.8 x 3.9inch)
500ml (16.9Fl Oz.)/min (±25%)
Rechargeable Li-ion 1.6Ah
AC100-240V 50/60Hz 0.4A
(Output : DC5V 1A)
g100 contents
1 x G100 Body
2 x Brush Heads
1 x Tube
1 x Foldable Pouch
1 x Cleaning Brush
1 x Wrist Strap
1 x Adapter Cable
1 x Charging Adapter
⭐ How to remove Protection film
Before
Gently remove the protection film
After
A protection film is applied to the bottom of the G100 Body to prevent scratches and dirt that may occur during manufacturing and transportation. We recommend removing the protection film before use.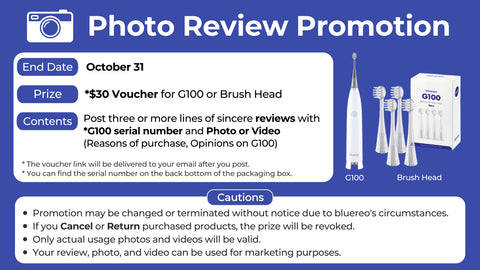 Customer Comments
My husband is a quadriplegic and I needed something to make it easy to brush his teeth. This is the perfect tool that makes this such a easy task. My husband loves the way it makes his teeth feel. Totally would recommend this product.
Absolutely great from a preventative standpoint of aspiration and reflux.
We try to brush our child teeth as often as we can, but it is very difficult because she is special needs. And the brush we have right now is so big that it is really hard to get inside her mouth. And so the small brush head is so fantastic.
I know it is going to make our brushing time a lot shorter and a lot easier!
The best part of it for us, is having the suction at the end of the actual toothbrush. So that he is not choking on any of the water, or the saliva, or any of the toothpaste that we actually have to use to clean his mouth.
It will keep the percentage chance of aspiration way down! And our loved ones are used to being suctioned at the dentist.
So that is not a new feeling. And to be able to do something that would keep them safe and make the caregiver's life easier. What a dream!
I purchased this toothbrush to use on my husband at home after he was discharged from an acute rehabilitation hospital. He is disabled--he suffered two strokes and his swallowing abilities have been affected.
This toothbrush allows me to be able to keep his mouth clean and make sure his oral hygiene is being kept up to keep his overall health as good as possible. It is easy to use and easy to clean. The suction is a necessity since he cannot swallow and could possibly aspirate, and the light at the end of the toothbrush head is awesome!
It allows you to see what you are doing and what is going on in your loved ones mouth. I highly recommend this product. Also, customer service, if you do have a question or an issue, is incredibly responsive and helpful.
Thank you for making this suction toothbrush, Bluereo!!!
I believe this tooth brush is really worth the price. I have been looking for something like this for so long, and this answered all of my prayers. I would highly suggest this tooth brush to anyone especially people with any trouble brushing.